HuskyTHON raises over $1 million for Connecticut Children's!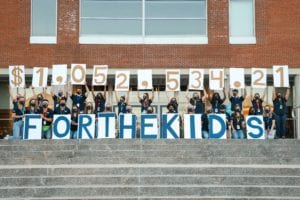 On March 20 and 21, UConn HuskyTHON students hosted their 22nd annual dance marathon at the UConn's Storrs Campus in support of Connecticut Children's. This year was HuskyTHON's first ever hybrid- virtual event. With the toughest year yet, the HuskyTHON community had many challenges thrown their way from a virtual semester, to no in-person on-campus presence, to learning the Morale Dance over Zoom. The HuskyTHON Management Team of 30 students adapted and overcame it all.
After a year of fighting for the kids and the completion of their 18 hour live stream, the HuskyTHON community raised $1,052,534.21 for Connecticut Children's. While the 23 honored Miracle Kids could not attend in person, they were celebrated virtually. Each Miracle Kid received a gift basket from their UConn team with which they were paired; and they joined their student group on a Zoom call to "unbox" their gifts and play games with the UConn students.
As HuskyTHON continues to break records year after year we are so grateful for their unconditional support of Connecticut Children's.